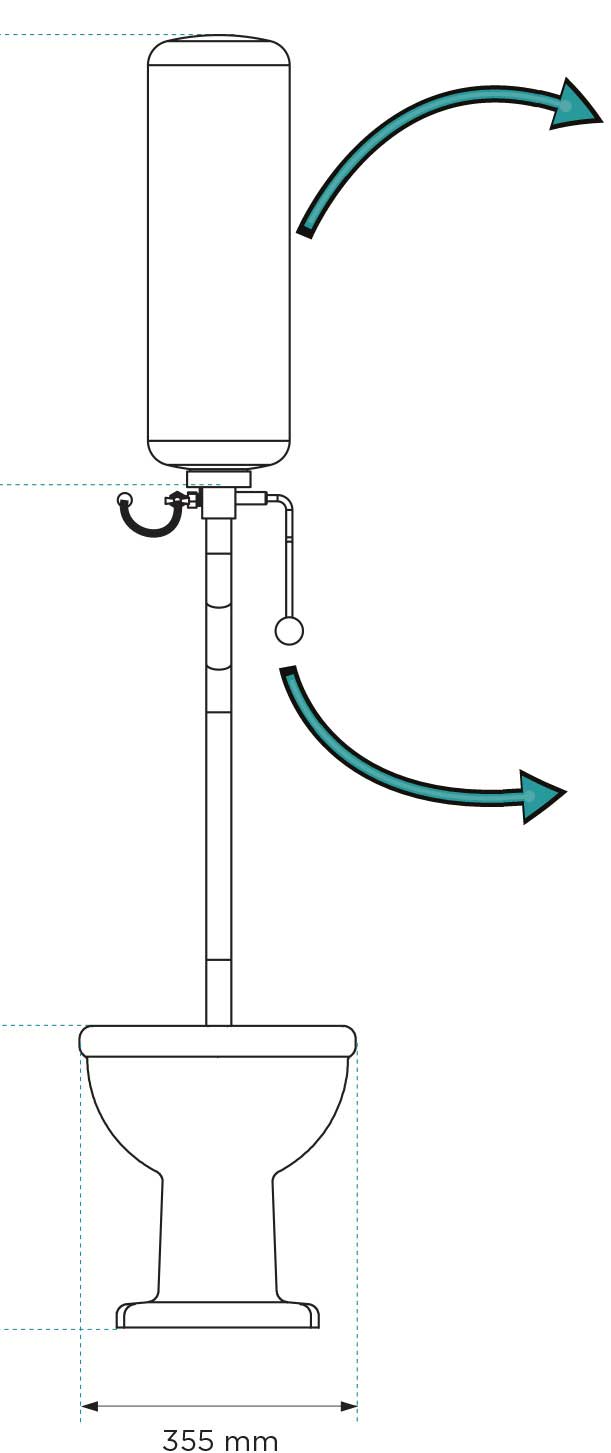 Full tank = 8L of water and 12L of compressed air* (upper part)
*Compressed air is an energy reserve giving the power of the specific and original flush effect of the Griffon. The hydrochasse renews the air automatically, with each use.

The joystick
When the user activates the control lever, he completely controls the duration of use of the flush and therefore the amount of water used.
Water saving is therefore obtained by combining the power of the flushing effect and flow control by the user, and thus:
→

The evacuation of urine does not exceed 1 to 2L

→

The evacuation of stool does not exceed 4 to 5L
Where a classic toilet flush consumes an average of 9L (for a result that is not always up to the water expenditure…)
The water saving thanks to the GRIFFON hydrochasse is therefore substantial: between 50 to 70% with each use!
According to the World Toilet Organisation,
we go to the toilet on average 2500 times a year
, 6 to 8 times a day. Taking an average flush of 9L, this represents 22,500 liters of (clean) water used per year, per person. That is the equivalent of 9 Olympic swimming pools.
Thanks to the GRIFFON hydrochasse
, the consumption of the same person would be on average 7,500 liters of water.
It would therefore be 15,000 L of drinking water that would be saved per year and per person
: the equivalent of 6 Olympic swimming pools!
What if we multiplied this figure by the number of households in France…? Almost 100 million liters of drinking water would be saved per year!
While waiting to achieve this feat, we are continuing our daily efforts to offer you the most responsible toilets possible:
Manufacture of the hydrochasse in workshops in the Saint-Etienne region, in aluminum and recyclable plastic to increase their resistance and their sealing
Selection of flaps from the French company OLFA in reticulated wood®. Particularly solid, OLFA seats are guaranteed for 10 years and carry the NF mark.
Selection of bowls from VitrA France, whose Eczacibasi Building Products group is committed to respecting planetary limits and working to eliminate their environmental footprint. Thus, they strive to use resources as efficiently as possible by extending the longevity of their products and increasing their share of nature-friendly materials.
Saving water, sustainability and responsibility: it is a whole positive and virtuous ecosystem that GRIFFON wishes to highlight in its actions and economic choices.